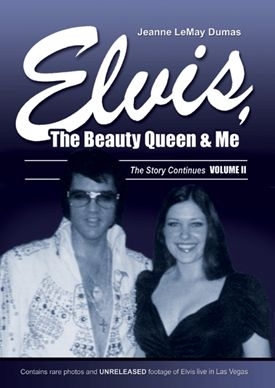 This is without a doubt the release that is announced a long time ago and postponed several times. A year ago, the sequel of the docu was announced, but is since today that we can provide this DVD. The majority of this DVD was filmed during Jeanne's trip to the UK in 2008. She was captured talking candidly about her time with Elvis at Graceland, on tour and in Vegas. She openly discusses how she was able to enjoy a close relationship with Elvis through her friendship with Linda Thompson, how she became a secretary at Graceland and what went on during those years. Her memories of those times are funny, fascinating and extremely riveting. Jeanne is a great talker and her warmth comes across beautifully in this 60-minute programme.
We are sure that fans will also enjoy some stunning-quality amateur footage from 1970 and 1971, too.
Order this DVD : http://shop.elvismatters.com/index.php?pagina=info&product_id=3350&parent_id=2836&cid=12&scid=60
Published: may 6th 2011 12:47 PM.
Source: shopElvisMatters.com / Published by: ElvisMatters