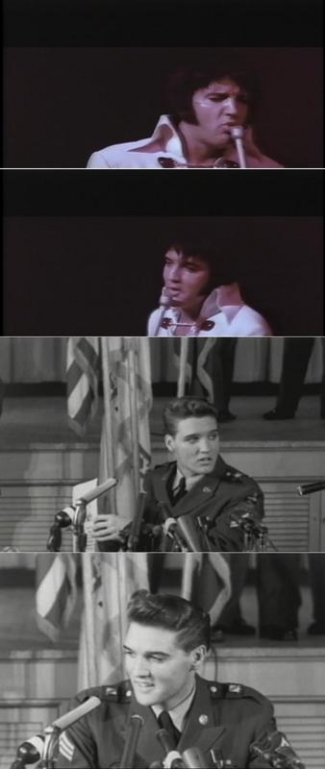 There are quite some rumors flying around on specialized Elvis collector's websites. One of the 'hot topics' is the release of a DVD/CD called "Elvis Live Live Live" with some possible interesting footage. This is the release by the producers: The DVD includes Johnny B. Goode complete version...Always On My Mind with different camera angles and see Elvis walk out of the studio, an outstanding never released version of Words and the complete Fort Dix farewell interview.
80 minutes of Elvis in Cincinnati on March 21, 1976, both the afternoon and evening performances with 30 minutes of unreleased footage from the two shows.
If that's not enough a bonus CD of rare tracks with many unreleased versions come one and all to the video and audio event of the year.
Bonus CD
Bitter They Are, Harder They Fall - undubbed master
She Thinks I Still Care - unedited undubbed master
The Last Farewell - False start, undubbed master
Moody Blue - overdubbed unedited master
Hurt - undubbed master
Love Coming Down - undubbed master
Sweet Angeline - undubbed master
Fool - long version
I've Lost You - undubbed master
Love Song Of The Year - undubbed master
Elvis Live, Live, trailer : https://www.youtube.com/watch?v=XRDLid7J9jg&feature=player_embedded
Published: may 27th 2011 06:25 PM.
Source: FECC / Published by: ElvisMatters