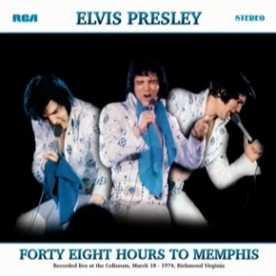 FTD will release 48 hours to Memphis in September. A Live Concert registration from March 18, 1974 in Richmond Virginia. This recording was made 2 days before Recorded live on stage in Memphis. Itís an unbelievable discovery: The recording 48 hours to Memphis came from a newly discovered, unmarked tape which later appeared to be a copy of the 16-track recording machine. People who attended the concert from Richmond and heard 48 hours to Memphis believe that this recording came closest to the actual experience of an Elvis Presley concert. This CD will be presented as an 7Ē album with a 16-page booklet featuring never before seen photos of the actual concert. The show was available from soundboard on Guaranteed to Blow Your Mind.
Tracklisting
Also Sprach Zarathustra (Richard Strauss)
See See Rider (Trad. Arr. E. Presley)
I Got A Woman - Amen (Ray Charles) (J. Hairston)
Love Me (J. Leiber / M. Stoller)
Trying To Get To You (Singleton / McCoy)
All Shook Up (O. Blackwell / E. Presley)
Steamroller Blues (James Taylor)
Teddy Bear / Don't Be Cruel (K. Mann / B. Lowe) (O. Blackwell / E. Presley)
Love Me Tender (V. Matson / E. Presley)
Long Tall Sally / Whole Lotta Shakin' Goin' On / Your Mama Don't Dance / Flip Flop And Fly / Jailhouse Rock / Hound Dog (Johnson / Penniman / Blackwell) (Williams / David) (Loggins / Messina) (Big Joe Turner) (Leiber / Stoller) (Leiber / Stoller)
Fever (Davenport / Cooley)
Polk Salad Annie (T.J. White)
Why Me Lord (Kris Kristofferson)
Suspicious Minds (Mark James)
Band Introductions
I Canít Stop Loving You (Don Gibson)
Help Me (Larry Gatlin)
American Trilogy (Mickey Newbury)
Let Me Be There (with Reprise) (John Rostill)
Funny How Time Slips Away (Willie Nelson)
Canít Help Falling In Love (Peretti / Creatore / Weiss)
Closing Vamp
Bonus songs
Sweet Caroline (Neil Diamond)
Johnny Be Goode (Chuck Berry)
Thatís Allright (Arthur Crudup)
Published: august 16th 2011 02:12 PM.
Source: ElvisNews.com