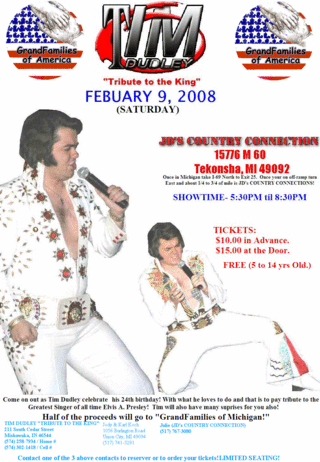 Yes folks on February 9, 2008! Tim will celebrate his 24th Birthday at JD's COUNTRY CONNECTION in Tekonsha, MI (Up around Battle Creek Area). This will be Tim's very first show up in this area of Michigan so long with it being Tim's birthday he is also nervous so please come out and support him. Has he pays tribute to the GREATEST SINGER OF ALL TIME, Elvis Presley.
Doors will open 1 to 2 hours before the show for anyone who like to order food before the show. Then at 5:30PM til 8:30PM is Tim's show. (Laws in Michigan say Kids can be in restaurant that serves beer til 9PM. That's why its early show!)
Tickets will be $10 in Advance and $15 at the door. Kids are FREE from ages 5 years old to 14 years old.
You can reserve or order your tickets at the following three people.
1.) Tim Dudley
211 South Cedar St.
Mishawaka, IN 46544
(574) 258-7934 / Home #
2.) Jody & Karl Koch
1056 Burlington Rd.
Union City, MI 49094
(517) 741-3291
3.) JD's COUNTRY CONNECTION (Ask for Julie)
(517) 767-3080