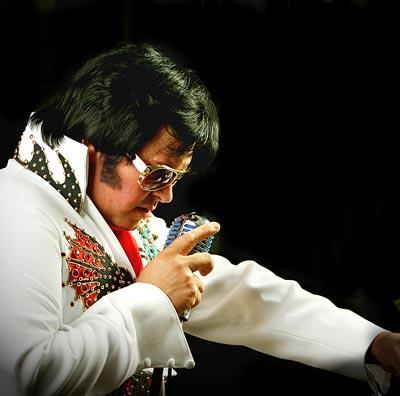 Tribute artist Steve Brandes set for show in Collinsville
Elvis Presley has been gone for around 30 years now, but that doesn't stop him from selling out shows on a regular basis.
Later this month, one of the top Elvis tribute artists in the Midwest will be coming back to put on his first big show in his hometown area in almost a decade.
On Saturday, Jan. 19, Steve Brandes of Troy will be performing at the American Legion in Collinsville (1022 Vandalia Street), along with the Springfield-based The Change of Habit Band - a group that has also been doing Elvis songs for more than two decades."I love what I do," said Brandes. "Coming back to my hometown -- that's gonna be cool."
Before donning the jumpsuit and jumping full-time into the Elvis business, Brandes actually handled several traditional professions, such as building windows for houses and selling cars.
Although he often acted in plays and sang solos as a young kid, he never considered translating that singing talent to the stage. At least not until he started spending his weekends at karaoke clubs and his grandfather persuaded him to hop on the microphone and do one of Presley's classics. That first night he received a standing ovation and had several people tell him how his voice closely resembled the "King of Rock n Roll."
"It felt like putting on a glove," he recalled. "It just fit."
Years later, Brandes, now 39, prefers the term "tribute artist" rather than "impersonator," admitting that he could never take the place of the real thing.
"People think that when you are an Elvis tribute artist, you live, sleep and breathe it," he said. "It surprises them to find that off stage, I'm just a normal guy living in a townhouse apartment. I don't go around telling people that I'm Elvis."
For Brandes, who grew up in nearby Granite City, his last big show in the Metro East was in the summer of 2000 at Collinsville's Italian Fest. Since becoming a full-time performer, his schedule has included between 12 and 16 appearances per month throughout Illinois and Missouri.
After recently signing with a new promotional agency, Brandes is now set to expand his show farther around the country, reaching out to a 500-mile radius of the St. Louis area.
Brandes said he tries to give audience members the same feeling they would have gotten when attending an Elvis concert in the 1970s.
Tickets for the Jan. 19 show, honoring Presley's birthday, are currently on sale for $10 at Mane Tamers in Collinsville, IL. (906 Vandalia), or by calling 618-344-7073. The price will be $12 at the door. It will begin at 8 p.m. and run approximately three hours.
For more information on Brandes, individuals can visit
www.stevebrandes.com
.
http://preview.tinyurl.com/2koy8c