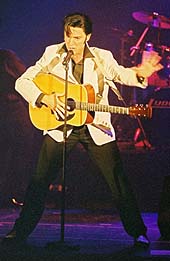 'One Night with Elvis' will be performed by Lee 'Memphis' King at the Broxbourne Civic Hall on Sunday 10 February at 7.30pm.
Lee performs hits from Elvis' entire performing career with his orchestra and singers; from the early rock 'n' roll years of 'Blue Suede Shoes' and 'Hound Dog' to the movie years of 'Jailhouse Rock' and 'Heartbreak Hotel', and finally his comeback concert years in Las Vegas which marked his return to sell-out live performances.
Thirty years after his untimely death, the music of Elvis is more popular than ever and Lee 'Memphis' King has been widely acclaimed as one of the world's best Elvis tribute artists.
All seats for 'One Night with Elvis cost £18.50 and Friends of Broxbourne Civic Hall receive 10 per cent off the ticket price. Tickets are available from Council one stop shops, the Broxbourne Civic Hall or by telephoning the box office on 01992 441946. Alternatively, customers can book online at the what's on section. Pre-show meals are also available before this performance but must be booked in advance.