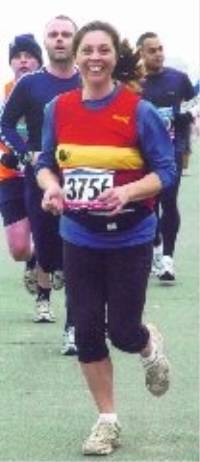 A cook will run the London Marathon in aid of a local charity.
Erika Pratt, 43, from New Road, Lewes, will be a familiar face to visitors to the Lewes Farmers Market where she runs the Moveable Feasts van, and her flapjacks are popular choice at Beckworths on the High Street.
She is also putting on a special Elvis Presley-themed fundraising evening at the Lewes Con Club on February 23, where visitors will be able to enjoy the King's music and favourite food.
The event is in aid of recycling organisation Furniture Now, the North Street-based charity which Erika is running the London Marathon for.
Erika said: 'It's going to be great night, we've booked an Elvis impersonator and I'll be cooking some chicken creole and some of Elvis's favourite deserts.
'I'm hoping to raise about £2,500 in total for Furniture Now, I've had a lot of support from everyone already and I thought instead of having to shake tins in pubs I'd organise a one-off event.
'Cooking's obviously my thing so this seemed to be the best thing to do and hopefully to collect a good amount of money.'
Local businesses have donated prizes for a raffle and Beckwiths and Barefoot Herbs, in Mount Pleasant are selling Erika's specially created Marathon Brownies.
In recent years Erika has completed several half-marathons and is confident she can cope with the extra distance in April.
This will be the first time Furniture Now has had sponsored runner in the London marathon and the money raised will help to fund a training project to help the long-term unemployed back into work.
Entry to the fundraising evening is £15. For tickets call Erika on 01273 470046. To sponsor Erika visit http://www.bmycharity.com/flapjacks or pick up a sponsorship form at Food Food in Station Street.
Article Source: http://www.midsussextimes.co.uk/509/Enjoy-dinner-with-Elvis-for.3780684.jp