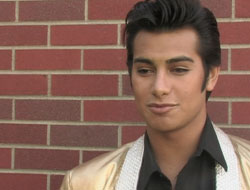 (10/20/2008) By Ginger ten Bensel - A top ten "America's Got Talent" performer from Nebraska returned Sunday. Joseph Hall is an Elvis tribute artist. He made it into the top 10 on the popular NBC show. Sunday he was in York.
It was all part of the Celebrating the Arts Concert Series at the Presbyterian Church in York.
Joseph Hall stole the show and the hearts of many Sunday as he stepped onto the stage paying tribute to one of the most well known performers of all time.
America's Got Talent catapulted Joseph Hall into the spot light changing his world completely.
"I am getting calls from all over the world," Joseph said. "It is magical."
And many say it is magical. When he steps on the stage Elvis comes to life.
"I am in a dream," Joseph said.
Two years ago Joseph was working at a restaurant. That Halloween he dressed up like Elvis and put on the performance that started the ball rolling.
"I had never sang before. I just went out there. It is just one of those things, just go with the flow," Joseph said.
And now he is singing his heart out for packed houses and the whole show is a family affair. His sister runs the sound and lights, his mom runs the video camera, his dad sets up the show dates and family and friends help out in any area they are needed.
"It is a family business," said Joseph's dad Kyle Hall.
And that family business is growing quickly.
"A lot of calls are coming from Canada," Kyle said.
But for now Joseph Hall is enjoying being home in Nebraska for the weekend.
"I just want to stay as well grounded as I can," said Joseph.
Joseph has many goals and one of them is to become a performer in Las Vegas. But he hasn't forgotten his Nebraska roots. He continues to perform here.
He will be in Hastings December 21st for a Christmas show.
For more info you can check out Joseph's website at http://www.erasoftheking.com