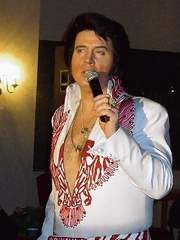 November 9th 2008
The show planned for Nov. 22 will highlight eras of late singer's life
DLB Productions is bringing three Elvis tribute artists representing three eras of Elvis' career to the Baker Theater on Nov. 22, according to a press release about the event.
• Jim Barone, a New Jersey resident, will perform as Elvis from the '50s;
• Rick Virga from Long Island will recreate the legendary 1968 comeback special when Elvis performed in front of live audience for the first time in eight years after his movie contracts were done;
• Doug Church will perform as the Elvis of the 1970s.
Dom Bocchino, who owns DLB Productions, said he has been a lifelong Elvis fan but was never that big a fan of tribute artist until he met Doug Church a few years ago.
"I heard about Doug but never saw him because I have seen so many (Elvis tribute artists) that were horrible I just got turned off but I went to Doug's show in Clarke and I was floored," Bocchino said. "I even had to bring a friend of mine who was a bigger critic than me, and he was blown away."
For tickets, call (888) elvisdc, that's (888) 358-4732.
Article Source: http://www.dailyrecord.com/article/20081109/COMMUNITIES13/811090357/1005/NEWS01