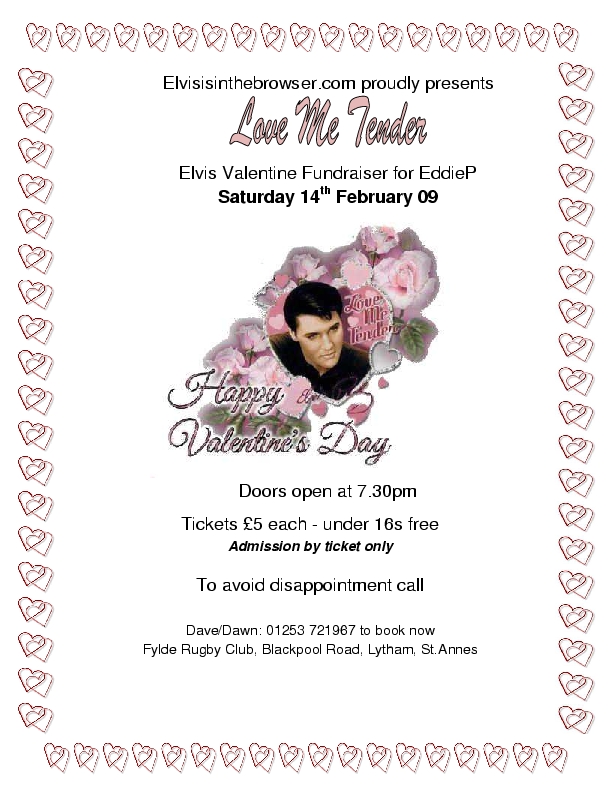 Wondering what to do on Valentines Day? Want to do something a little different this year? What better way to spend it than at an All Elvis themed night.
Fylde Rugby Club is the place to be on Saturday 14th Feburary.
We have lots of things planned so whether you would like to come to the Saturday showcase or make a full weekend of it we are pleased to be able to offer maximum entertainment for minimum cost.
**Friday 13th February 09 – Launch Party at St Albans Hotel**
The launch party, filled with top class entertainment from awesome ETAs, plus karaoke and fully stocked and licensed bar.
Our entertainers for the evening will be:
To be able to attend the launch of
'Love me Tender – EddieP Fundraiser'
you will need to either be staying at St Albans Hotel or be on the guest list.
For enquiries about accommodation contact Dave and Dawns hotel St Albans (Tel: 01253 721967)
For enquiries about guest lists contact Dave and Dawn (Tel: 01253 721967) or Paul Bulmer pdbulmer@hotmail.com
**Saturday Night's Love Me Tender – EddieP Fundraiser**
Valentines Night at Fylde Rugby Club, which is sure to have you all shook up in true Elvis stylie! We have 9 fantastic ETAs who are top dollar to entertain us for the evening with everything from romantic ballads to rock n roll classics.
Our entertainers for the evening will be:
We have limited the amount of tickets to be sold. With 250 printed its first come first served.
Method of Payment:
1.)
PayPal:
Please visit www.paypal.co.uk and send a money request to dawn@fyldehotels.com Because PayPal take a commission and we want as much money to go Eddie to book your tickets it will cost you five pound a ticket and a one off payment of £1 to cover commission and postage.
Just simply put in your send money request EddieP fundraiser + how many tickets you need.
If paying with PayPal please include your address so your tickets can be posted.
2.)
By Phone:
You can ring Dawn and Dave from the StAlbans hotel and make a card payment Tel: 01253 721967.
Dawn and Dave have limited rooms left in there hotel. Should you require the full weekender package
13/14/15 Feb 2009
don't worry if the hotel is full Dawn and Dave have other hotels on standby. To book and confirm your room all that is needed is a £20 deposit.
So if you're planning on coming please get your tickets ASAP as we have had a lot of interest. No ticket = No entry
The EddieP Fundraiser for a very well respected ETA and friend who had a lot of his equipment stolen from his car at the end of November whilst singing for Charity for the Blackpool Life Boats. As a true professional he didn't let anyone down and carried on regardless. This weekend is to raise money for him to replace his equipment. ALL proceeds will be going to EddieP.
Hope to see you there!