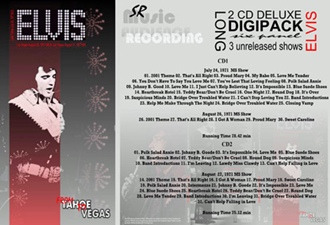 'From Tahoe To Vegas' new import CD: SR Records is to release "From Tahoe to Vegas" next month focusing on Elvis' July & August 1971 seasons. This import comes in double CD deluxe long digipack, the second SR release dedicated onto July Tahoe engagement. As SR attitude we present Elvis at the peak of his live touring and without doubt the Lake Tahoe July 1971 season presents Him at the top. Presented here are three unreleased complete shows in a very good audio quality coming from early generation tapes. From audience recordings, the second show from Tahoe 71 ever in the best audio quality everů one of the best shows ever of Elvis in the seventies.
These are however audience recordings but well balanced with all the instruments and Elvis super powerful voice. The show is fantastic and the track listing is very interesting with a lot of rare songs as MY BABE, I JUST CAN'T Help Believing and Help ME MAKE THROUGH
THE NIGHT and with the unusual conclusion with Bridge Over Troubled Water. (EIN does not believe this comment).
The Other Two Shows are from August 26 and 27 midnight Shows in spite Elvis' starting to tire from both seasons. They are still solid with a superb audio, overall in the August 27. He sound terrific full of vocal energy with a tape with a full sharp sound that give justice to the listener. No surprises on the track list but all the songs are delivered with energy and solid enthusiasm. All tracks were digitally restored for your best possible listening pleasure; the sound quality is incredibly good considering the early period. We are proud to give life to a unique view with almost 120 minutes of great music with Elvis at his best.
Deluxe box contains a collection of live RARE photographs of both the Seasons. Don't miss it.
Note - EIN believes this concert to come from a CDR that has been around in collector's hands for a while. The 'Bridge' ending on the CDR is also a fake edit.
(News, Source;SR) 19.02.2011