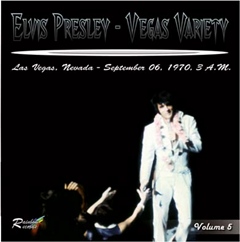 'Vegas Variety Vol. 5' new Import CD: Rainbow Records is back with a brand new release and it is the 5th volume in the popular "Vegas Variety" - series. You won't believe what you´ll hear – expect the unexpected!
Question: How many concerts do you know where Elvis performed a medley of "Hound Dog - I've Lost You - Hound Dog"? You don't have to answer. Just let us know if you can imagine a Tom Jones, Engelbert Humperdinck- and Glen Campbell- impersonation by Elvis on "Polk Salad Annie" (at a later part of the song) where he finally says "Me", impersonating himself and receiving rapturous applause. Or a totally crazy version of "You´ve Lost That Lovin´ Feelin´" where Elvis changes the lyrics like this: "You Never Close Your Legs…" And probably an even more crazy short, funny and much to fast version of "Love Me Tender".
Not to mention that hearing another mindblowing "Blue Suede Shoes - Whole Lotta Shakin' Goin' On - Blue Suede Shoes" Medley from 1970 is simply breathtaking. It is also a real surprise that Elvis is able to do such an incredible rundown on "Bridge Over Troubled Water" just a couple of minutes later.
You may still wonder what makes this concert so special? Well, obviously the fact that this show has happened and until now all the
Elvis books did not know about it and have miscalculated the total shows for Elvis 3rd Vegas engagement. The fan who recorded this show labeled the tape as "September 6, 1970 - 3 AM" being the 3rd Show of that day. We have no reason to doubt this.
It's pure Elvis. He's raw and wild, crazy and weird but funny all the time. It seems he's just enjoying whatever he is doing on stage. Rainbow Records was able to work from the original tape from the fan who also recorded the previously released November 12, 1970 show called "The Essence of Energy". So you know what to expect soundwise - but anyhow the content will blow you away!
As always you can expect a high quality 20 pages booklet with never before seen memorabilia from the International Hotel, with rare photos and an interview with "That's The Way it Is" producer Denis Sanders.
Tracklisting:
1. Orchestra intro 2. Opening Vamp / That's All Right 3. I Got A Woman / Amen 4. I Walk The Line (excerpt) / Elvis talks 5. I've Lost You (false start only) 6. Love Me Tender 7. You've Lost That Lovin' Feelin' 8. Polk Salad Annie 9. Band Introductions 10. Johnny B. Goode 11. Band Introductions continued 12. The Wonder Of You (with false start) 13. Heartbreak Hotel (2 false starts only) 14. Blue Suede Shoes / Whole Lotta Shakin' Goin' On / Blue Suede Shoes 15. Hound Dog (false starts) / I've Lost You (part only) / Hound Dog (with break) 16. Bridge Over Troubled Water 17. Can't Help Falling In Love 18. Closing Vamp
(News, Source;Rainbow)